Exclusive Residence in the heart of Bangkok
We discount from now until 31 Oct. 2014

---
察 达 .柯 酒 店
现金房价 (以 下 房 价 以 现 金 ?准 ,若 是 使 用 信 用 卡 支 付 另 加 5%)

房 间 种 类

面 积
(平方米)

日租
(铢)

周租
(铢)

月租
(铢)

1. Standard Room
Studio type

30

1,850
12,000
40,000
2. Executive Suite
2 Bedrooms 1 Bathroom Suite

60

3,200
19,000
68,000
3. Junior Suite
1 Bedroom 1 Bathroom Suite

60

3,500
21,500
70,000
以上房价包括早餐和增值税
**若是网上订房的客户,必须提前1天付订金。若付订金後,客户没有入住本酒店,其所付的订金本酒店恕不退还。.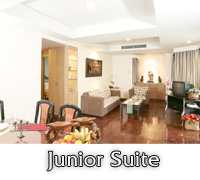 ---

为了你的舒适与方便,我们提供的包括:
1. 游泳池、桑那和健身房
2. 高网速英特网(ADSL)、无线上网
3. 24 小时保安系统
4. 个人保险箱
5. 标准防火系统
6. 免费卫星电视
7. 接近医院和大使馆
8. 闭路电视
9. 5 分?可到达空中列车站(捷运)
10. 接近购物中心和百货公司
11. ?洗服务
12. 停车场

酒店附近的可关注点
曼谷娱乐区的牛仔街夜景。

泰国贸易银行在酒店附近.

从酒店步行5分?,便可到达素坤逸路的晚上购物街.
你处于素坤逸商业区,其周围是许多重要公司的所在地。
我们在westin grande 和sheraton grade sukumvit酒店的後面。
从我们酒店出发,坐空中列车(捷运)和地铁仅花5分?便可到达曼谷的许多地方,如:是隆、帕蓬、湄南河.
在酒店附近有许多百货商场,如:ROBINSON,EMPORIUM, SIAM PARAGON
在酒店附近有可做善事和静修的SAPRATUM寺庙。
在酒店附近有24小时方便店7-11。
若想放松或运动的客人,从酒店步行5分?,便可到达BENJAKITI公园。

Bumrungrad 医院:从酒店出发,坐车仅需5分?便可到达泰国最好及具有国际医疗水平的 Bumrungra 医院。

Terminal21 brings you to the whole new experience of shopping with Market Street Style, Fashion , Food, Film, Event & Promotion.

若想坐船观光的客人,可从酒店附近的小河出发。

仅需坐5分?的地铁,便可到达SIRIKIT国家会议中心。

适合男士和女士的按摩店和 SPA店到处都是.
What Our Guests Say
Excellent Value and Great Location

Best comfort was fantastic. It is really value for money and the location is good. Just about 7 mins walk from the Asoke and Nana BTS and the Sukhumvit MRT is abit further off. We only took the cab after midnight when the trains werent running.
The room was clean and big, we satyed in a twin room with two double beds.
The staff was really friendly. Smiles all round.
There is a small pool on the top floor and a small gym. Breakfast was very simple.
Stayed there for 5 nights. Will definitelty come back to stay here when ever Im in bangkok.

John Christopher
United kingdom (April 25, 2009)
Best for the price

Staff is evertime very helpful and friendly. The only one hotel for this price with swimming pool. Hotel is quick to sukhumvit Road.
Was this review helpful.

Patrick Stefan
Germany (April 10, 2009)
| | |
| --- | --- |
| | |
| | |
| --- | --- |
| | |
Location is not bad actually the junction is soi 19

I went to this place, ask around and u can find it, good location actually very near to soi cowboy, i arrived at the hotel, good and friendly services by the hotel staffs, good english, i reach the room and ask to change a room to higher floor, not questions ask immediately change for me, very good !!! i ask for the nigjt market info, they call and check for me very good, never ask for any tips, i gave them 100baht really good. the room is great !!! the bed is superb comfortable!!! i really enjoy the sleep as i am a hard sleeper, its really good, aircon cools super fasts, with bath tub, hot water is working too, only flaw no toothpaste and toothbrush and breakfast i went in a too a sip of orange juices( if u compare to 5 star )then its not fair la, just expect home breakfast standard , but its did nt affeact me as i went out and enjoy breakfast, overall i will go again because its services and room very very good ! worth very worth , allow early check as i was early at 1pm and check out at 2pm too great !!

Edward Tan
U.S.A. June 01, 2009)
| | |
| --- | --- |
| | |
| | |
| --- | --- |
| | |
Dear BestComfort

My stay in Thailand, particularly, at BestComfort was wonderful. The facilities are as good as a big hotel and the rate is cheaper. The staff was very helpful and friendly. I love your boutique hotel - it is very cute and clean. Please thank all the staff for me, and I will be back on my next trip.

Bill Monsour
USA
Dear Sir,

My name is Walter Brown from Ireland. I stayed in BestComfort over Christmas and New Year Dec 1999/Jan 2000. I was very happy with the accommodation and the staff were friendly.

I will be visiting Bangkok again in June and would like to book a single
studio for the following, June 17, 18, 19, 20, 21.

Thanks in Advance,

Walter Brown
Thank you also !!!!

Yes- I was very happy in the end with the high level of service and yes I will come back and stay with you real soon

Kind regards

Mark Foy
* all price subject to change without notice
Online Booking click here
---
BestComfort
49 Soi Sukhumvit 19, Wattana, Bangkok 10110
Tel.
(662) 651-1310
Fax.
(662) 253-5830
Contact & Reservation
reservation@bestcomfortbangkok.com
You are visitor No
Since 1 October 1999

Updated Date 10 September 2008